Save €1.1
olio motore mobil super 3000 5w40 lt1
€10,00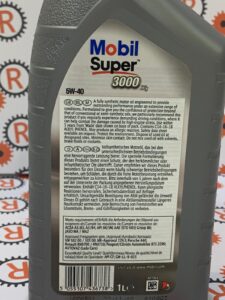 Description
Applicazioni
I Mobil Super 3000 sono formulati in modo da poter infondere fiducia in una protezione superiore a quella offerta dagli oli semi-sintetici tradizionali. ExxonMobil consiglia Mobil Super 3000 X1 5W-40 in caso di condizioni di guida impegnative laddove può aiutare a combattere i danni causati da frequenti ed elevati stress del motore:
• Molte tecnologie dei motori
• Benzina e diesel senza filtri antiparticolato diesel (DPF)
• Autovetture, SUV, autocarri per trasporto leggero e furgoni
• Percorsi autostradali e guida in città "stop and go"
• Motori a prestazioni elevate
• Condizioni operative gravose da normali a frequenti
• Turbocompressori e motori ad iniezione diretta
Consultare sempre il manuale dell'utente per controllare il grado di viscosità consigliato e le specifiche relative a ciascun veicolo.
Specifiche e approvazioni
Questo prodotto possiede le seguenti approvazioni:
AVTOVAZ (auto LADA)
Porsche A40
Peugeot / Citroën Automobiles B71 2296
RENAULT RN0700
RENAULT RN0710
VW 502 00
VW 505 00
Approvazione MB 229.3
Questo prodotto è raccomandato per l'utilizzo in applicazioni che richiedano:
GM-LL-B-025
API CF
Only logged in customers who have purchased this product may leave a review.